CONTACT US
Thistledown Pet Memorial is the only pet funeral home ~ pet crematorium facility located in the Greater Toronto Area.
Our prices are competitive and in many cases are lower than those charged by vet clinics and other providers who use a third party pet crematorium.
If you wish to honour your pet's memory and if you want to start the healing process after the loss of your pet, we suggest you contact us to discuss your needs and to learn how we might be able to help you through this difficult time.
At Thistledown, personal service is our strength.
Thistledown Pet Memorial is located on the southern edge of the Town of Uxbridge, Ontario. Because of the close proximity of Thistledown to Highways 401, 404 and 407, we are able to provide essential pet loss pre-planning and after-care services to pet owners living throughout the Greater Toronto Area. We are about 45 minutes from the Hwy 401/Don Valley interchange.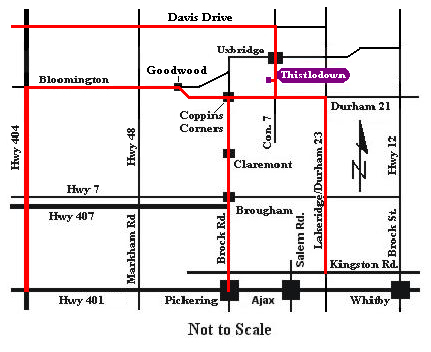 Google Maps: To View Larger Mapfor more detail, enter Thistledown Pet Memorial in the Google Maps search box (do not enter our street address).
Location: 4766 Concession 7, R.R.4, Uxbridge, Ontario L9P 1R4
GPS: Some GPS systems provide incorrect directions to our location. If you are using a GPS to find us, we recommend you enter either:
a) Our street address: 4766 7th Concession, Uxbridge (do not input as Concession 7), or
b) Our spatial co-ordinates: Latitude: 44° 4' 10.48" N Longitude: 79° 6' 10.68" W
Regular Office Hours: Open 7 days a week (Sunday through Saturday (10:00am-4:30pm)
Extended Office Hours: Sunday, Monday and evening visits or cremations by appointment.
Telephone: 905-852-5648 (We can be reached seven days a week. Please leave a message if we don't pick up immediately and we will get back to you as quickly as possible).
Email: This email address is being protected from spambots. You need JavaScript enabled to view it.
Website: http://thistledown.info
Facebook: www.facebook.com/thistledownpetmemorial